Free Car Removals Adelaide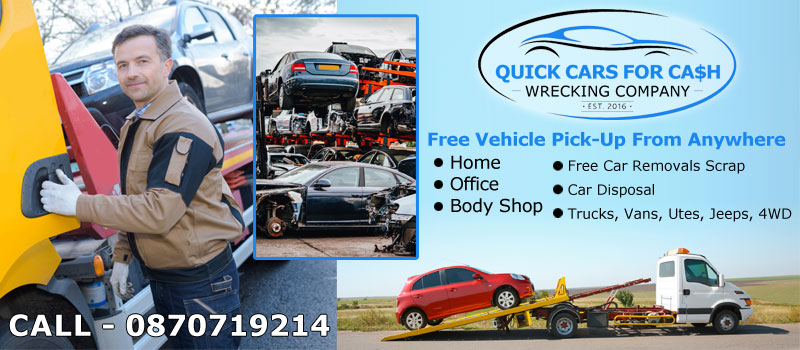 Get rid of any junk, scrap, old and unusable car with free car removal Adelaide services. Our company specializes in free car removal services in Adelaide and that's not all. We pay you top dollar for any scrap car you sell to us. You can sell us wrecked cars, damaged cars and old cars that do not run anymore. We are available at any time and at any place in Adelaide, to pick up a scrap car.
Wrecked Vehicles Trucks-Vans-4wd's Disposal
Our free car removal services in Adelaide do not cost you a cent. Instead, we are happy to pay you cash for any wrecked, junk or scrap cars, vans, trucks, 4wd's and 4×4. You could be anywhere in Adelaide, call us and we will pick up your car at our expense. Our company buys private and commercial scrap cars at top dollar. To make the process of selling a scrap car hassle-free, we take care of towing costs.
Quick Car Removals
Your car, truck, van or even buses does not need to be in working condition. It could be beyond repair, smashed, wrecked and unwanted. Our company is still ready to pay you a good amount of money in cash for your scrap vehicle.
Working with us for free car removal in Adelaide is no trouble at all. Give us a call, give us your address and a date and time, we will be there. It's easy as ABC! Call us and we will pick up your wrecked vehicle.
Get Money for Free Car Removal in Adelaide
This is your chance to make some money from a scrap vehicle. Give us a call, we will check your scrap car and pay you what your junk vehicle is worth. Why let a junk car, truck, van or even a bus, occupy space in your yard? Opt for free car removal in Adelaide and get money for an unusable vehicle. You should know that we will pay you for your scrap vehicle as it is. Your wrecked and smashed vehicle will get you cash on the spot. This is our guarantee.
Benefits of Opting for Our Car Removal Service
Since a junk vehicle is of no use to you anymore. It takes up space, looks ugly in your yard and does not serve its purpose. You must know that no private buyer will buy your scrap car as it is. Hence, our company is the best option for free car removals in Adelaide. Listed below are a few reasons why you should opt for our car removal Adelaide services.
Our car removal services are free
 We do not charge you a single cent for towing
 Our company take care of the hard work of transporting a junk vehicle
 We remove four-wheel drives (4wd) of any kind, make and model
 The team of experts are happy to pay you instant cash for your wrecked vehicle
 We buy your wrecked vehicle as it is
Get Instant removal of your junk car at our expense to make space in your garage or yard.
We Remove and Pay for Any Scrap Vehicle
While we provide car removals for free in Adelaide and pay instant cash for any scrap vehicle, we need for your scrap car to be
Complete without any components missing
The car should have its engine
You should be the owner of the car with paperwork to prove your ownership
If not, you should have the permission of the owner to remove and sell the scrap car
The car should be in the driveway of your property
There should be no obstructions in the way of removal
The car cannot be towed from an accident site
Towing from an undercover parking area is not possible
As mentioned before, our company removes and pays for any scrap cars, vans, trucks or even buses. These scrap vehicles could be a commercial property or owned by individuals. Furthermore, the scrap vehicle could be of any make or model. Cash For Cars Adelaide is happy to provide free car removals service and pay for your scrap vehicles of any kind. Quick Cash For Cars accepts all models and makes including- Toyota- Nissan- Mitsubishi- Mazda- Subaru- Holden- Suzuki- Ford- Honda- BMW- Audi- Jeep- Mercedes- Peugeot- Citroen- Daewoo- Daihatsu- Saab- Renault.
In conclusion, free car removals in Adelaide with instant cash for your scrap trucks or any vehicles is our business. Call us and let us help you today. Finally, for hassle-free car removals and instant cash for junk vehicle, call us at 0870719214 today.